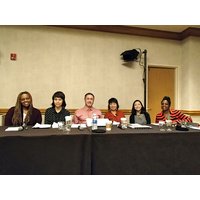 This past May, with the generous support of ARLIS/NY, I was fortunate enough to attend the 42nd Annual ARLIS/NA Conference in Washington, DC, as a recipient of the Celine Palatsky Travel Award. As an emerging art library professional and recent graduate, receiving this award means a lot—not only for the much-welcome financial assistance but also for the vote of confidence it provided me as I launch into my career. As a second-year conference attendee, I knew this conference would afford me with rich and unique opportunities to interact with leaders in art librarianship, learn about emerging and existing issues in the field, and a chance to share my own ideas and experiences with my peers.

Although I was not able to attend all of the sessions that caught my eye, a few distinctly memorable ones were "Politics, Power, and Preservation," "Picturing Dissent: Documentation of Labor Movements' Actions from the Late 19th Century to the Present" and "All Power to the People: Collecting and Preserving Art of Social Movements." Each really spoke to the conference theme of the intersection of politics and art and brought up interesting issues of preservation—a particular area of interest for me. I also had the chance to attend the Collection Development special interest group and listen in on the discussion of achievements and hurdles faced by collection development staff from several illustrious institutions across the country. I also really enjoyed the Poster sessions and the huge variety of topics they covered. I was really intrigued by the "Seen Obscene" poster by Jaye Fishel, which dealt with censorship of sexually explicit materials in library collections. However, the biggest highlight of the conference was definitely the Convocation and Reception at the Thomas Jefferson Building of the Library of Congress. Having free-reign of the Main Reading Room, Great Hall, and exhibitions spaces was a once-in-a-lifetime experience that reminded we what I love so much about librarianship.

On Sunday morning, I was one of four speakers on "The Politics of Diversity in the Art Library Profession" panel, discussing the racial and ethnic diversity stumbling blocks I faced in library school, how they shaped my outlook on librarianship as a whole, and how mentorship from other librarians of color was a key factor that helped me to grapple with these issues. I am so grateful to have shared a panel with Charlene Maxey-Harris, Eumie Imm Stroukoff and Mark Pompelia. It was truly inspiring to hear them discuss how their lives and careers have been affected by different issues of diversity in our field and how their leadership has brought these obstacles to light.

Although there were many highlights to that weekend, meeting and re-connecting with so many librarians—who generously offered words of wisdom and invaluable advice—was hands-down the high point. Of all the professional conferences I've attended, I'd safely say that ARLIS/NA has been the most encouraging and welcoming. Thank you again to ARLIS/NY for its kindhearted support and I look forward to the many ARLIS/NA conferences in my future.
Jina Park, 2014 Recipient of the Celine Palatsky Travel Award
Image: Jina is the second from the right in the photo.

---