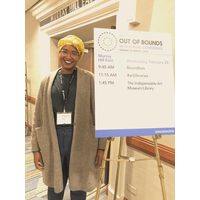 As the 2018 ARLIS/NA conference did not involve major travel for our members, ARLIS/NA New York was able to make four awards available to students and new professionals to cover the cost of registration. Below is the third of four write ups from the recipients of the Celine Palatsky Travel Award.
This past February, as a recipient of the Celine Palatsky Travel Award, I was able to attend the 46th annual ARLIS/NA conference in New York City, with this year's theme being Out of Bounds. As a first time attendee, I enjoyed the opportunity to learn about a variety of topics, make new acquaintances, and gain inspiration from all that the world of art libraries has to offer. As I near the completion of my graduate studies in Library and Information Science and the History of Art and Design at Pratt Institute, I am eager to continue to learn and experience as much as I can before officially embarking on my professional journey.
I am also a Pratt fellow at the Thomas J. Watson Library at the Metropolitan Museum of Art, and my time there has afforded me many chances to familiarize myself with art librarianship and the role that research libraries play within arts institutions. Hoping to build upon that knowledge, I attended sessions on a variety of topics including: zines, provenance research, and how art libraries are effectively utilizing social media to engage with wider audiences. I appreciated how this conference acted as a forum for sharing knowledge, facilitating discussion, and encouraging collaboration within the field. I found it reassuring to meet so many different librarians from various institutions both across North America and further abroad who share the same forward-looking vision for art libraries. Through our conversations, I took comfort in knowing that there are many options available to me upon receiving my degree, and that there's so much more to art librarianship to discover. I would like to thank the Celine Palatsky Travel Award Committee for providing me with the opportunity to experience this year's conference, and I look forward to attending for many years to come.
Anna Holbert, MSLIS, MS History of Art & Design Candidate, Pratt Institute
---