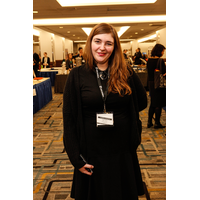 As the 2018 ARLIS/NA conference did not involve major travel for our members, ARLIS/NA New York was able to make four awards available to students and new professionals to cover the cost of registration. Below is the first of four write ups from the recipients of the Celine Palatsky Travel Award.
Thanks to the generous support of the Celine Palatsky Travel Award, I was honored not only to attend, but to moderate a panel for the 46thARLIS/NA Annual Conference held in New York City at the end of February. This was my second time attending ARLIS/NA's Annual Conference, and my first experience moderating a panel discussion.
As the Archivist and Associate Librarian at the International Center of Photography (ICP), I was excited to reconnect and meet with other librarians who specialize in photography at the Photography SIG meeting. At last year's meeting, the SIG proposed a panel for the 2018 conference: Photography and Books Across Boundaries in Art Libraries, Archives, and Museum Collections, which I was honored to end up moderating. After the presentations from Isotta Poggi, Deirdre Donohue and Emily Weirich, as well as an impromptu dance performance by Emily Weirich and me, we discussed the photobook and the parallels of the three presentations. The concept of "copies" and their ability to encourage scholarship was discussed; scholars and information professionals have the ability to analyze and re-contextualize artworks through photography, reproductions in books, and now digital objects.
Another highlight of the conference was the workshop, From the Margins to the Center: Cultivating a Critical, Reflective, and Radical Practice in Art Librarianship, where we were encouraged to support social justice through our roles as information professionals. The workshop conductors' message of the importance of social justice has stayed with me. My current project as Archivist at ICP consists of creating the finding aid for the papers of our institution's founder, Cornell Capa. In processing these documents I've been reminded of how ICP has been dedicated to social justice and continues to strive for that goal; our current library exhibition and programming is focused on acquiring the works of queer, gender non-binary, and people of color creators. Many of the workshop exercises focused on recognizing privileges, discussing what representation in libraries and archives means, and noting that the library and archive should be conscious in their collecting.
I am looking forward to the next ARLIS/NA conference, where I hope to grow and maybe even present at a session myself! Thank you again to the New York Chapter for selecting me as a recipient of the award and to the women with whom I shared a panel.
Emily Peterson Dunne, Associate Librarian & Archivist, International Center of Photography
Image credit: Victor Sira
---