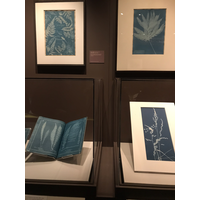 On Wednesday, February 12th, ARLIS/NA New York chapter members had a unique opportunity to attend a tour of the exhibition Blue Prints: The Pioneering Photographs of Anna Atkins, which was nestled in an intimate gallery in the New York Public Library's Stephen A. Schwarzman Building. The exhibition focused on Anna Atkins' 1843 publication Photographs of British Algae, which is considered to be the first book illustrated with photography. In addition to NYPL's own copy, several others were on view, graciously lent by institutions from around the world.
Our tour was given by the exhibition's Curatorial Assistant, Emily Walz, an art librarian at NYPL's Wallach Division of Art, Prints, and Photographs–Art & Architecture Collection. She explained her research process for the exhibition, which, coming from a librarian's point of view, provided a direct and unique view into the production of an exhibition that crosses the boundaries between art and librarianship. Most exciting, was hearing Walz's story of how she discovered that the Université de Montréal had a pristine copy in their rare book collection, which had not been fully identified by the institution. Her inquiries about the object and the subsequent discoveries caused quite a stir.
Each copy of Photographs of British Algae on view was displayed in a different manner; some were mounted, some were bound, while other were unbound and framed. Walz explained that Atkins shipped her work out to buyers unbound with instructions on how to assemble its assorted parts; however, many collectors chose to frame, or bind the works in other ways. Each variation in the exhibit provided insight into this aspect of the publication, as well as into the provenances of the copies.
The exhibition also explored Atkins' life, from her childhood, where she was raised by her single father, a man who influenced her interest in botanical study, to her early forays into artistic practice — a few of the woman's exquisite sketches evinced how talented she was as an artist. Also included in the exhibit were parallel works in similar medium or style, as well as works that Atkins' cyanotypes inspired in the decades to follow. All of these materials provided insight on the history of photography as it relates to Atkins' work, as well as the great influence she had.
Blue Prints: The Pioneering Photographs of Anna Atkins came down shortly after our tour; however, a revised and expanded edition of Larry J. Schaaf's seminal book on Atkins, Sun Gardens: Cyanotypes of Anna Atkins is available for purchase, and NYPL has digitized their copy of Atkins's original publication Photographs of British Algae, which can be viewed in their Digital Collections online.
Samantha Levin, Special Collections Associate, Fashion Institute of Technology
---