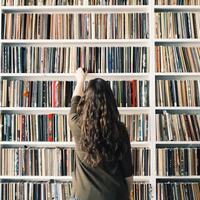 ARLIS/NA New York chapter members enjoyed a visit to the Brooklyn Art Library back in June of 2017. Steven Peterman, Co-Founder and Director, gave a tour and described the unique evolution of the Sketchbook Project, and the permanent collection space known as the Brooklyn Art Library.
Although it is the largest collection of sketchbooks in the world, the Brooklyn Art Library is more than just an artist sketchbook repository, rather it is a place of creation, discussion, and learning. Every volume captures a brief but immediately intimate work of art, and the collection affords researchers and casual viewers alike a glimpse at the creative process of artists from around the world. At a time when the search bar can be perceived as a portal to every possible answer, it is startlingly calming to reflect on one idea, one creator, and one page at a time with little to no text.
Co-founders Steven Peterman and Shane Zucker began this venture when they brought together 150 artists and created a photo collection event. These first creative participants wanted more, so Steven and Shane ventured into sketchbooks. Today Steven and his wife Sara continue to steward over 36,000 sketchbooks from over 100 countries, and the library continues growing with every admission. Steven emphasizes community participation, where people from around the world may submit sketchbooks to be kept in perpetuity. The sketchbook submission process is open to everyone; individuals or groups may sign up and purchase books to fill. Once a completed sketchbook is returned, it may be digitized at the request of the creator for a fee. With very few exceptions, every sketchbook has been accepted into the collection.
Viewers come from all over the world, and the digitized collection is accessible on the open web. Patrons researching the digital library may search, browse, or view either random books or collections, which are groups of sketchbooks curated by library users.
The Brooklyn Art Library is open during scheduled weekend hours and by appointment, and portions of the collection go on tour across the United States in a mobile library. The library also serves as a unique event space, artist residency space, and coordinates special events such as Impact Hour, bookstore crawl, and Superhero Figure Drawing. Be sure to set aside a trip to Williamsburg and visit this special collection.
Vanessa Viola, Art & Architecture Librarian, New York Institute of Technology
---