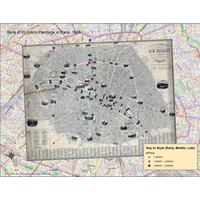 On Wednesday, September 21, 2016 approximately twenty-five ARLIS/NA New York members gathered in the Metropolitan Museum of Art's Carroll Classroom to learn how art information is currently being analyzed and presented using digital tools. The presentations introduced participants to a host of resources and projects. The staff at the Frick Reference Library contributed greatly to the event, with presentations from Ralph Baylor, Dr. Stephen Bury, Samantha Deutch, Ellen Prokop, and Dr. Louisa Wood Ruby. Dr. Titia Hulst also shared her research.
The presentations illustrated that librarians can benefit from using familiar tools in new ways and exploring software that is not typically used in the arts and humanities. While it is not often grouped with popular programs like Tableau, D3, and Gephi, Ralph Baylor's presentation highlighted the visualization capabilities of Zotero. In addition to its tried and true use as a citation manager, Zotero has a plugin called Paper Machines that allows it to display word clouds, heat maps, and topic models based on bibliographic data. This could be the perfect tool for patrons who are interested in visualizing information but might be discouraged by technical barriers. Titia Hulst's work on contemporary art markets demonstrated the value in seeking out non-conventional visualization tools. She used Cytoscape, a bioinformatics software platform developed for visualizing molecular interactions, for her doctoral research on artworks distributed by Leo Castelli.
The session also revealed some of the trials and tribulations associated with working on digital art history projects today. While there are numerous free tools available for data gathering, visualization, and analysis (a quick look at all of the free applications listed on DiRT confirms this), relying on them can be problematic. These tools can become quickly unavailable due to lack of support. In addition, they often transform from being open source to proprietary. For example, Kimono, a web-based scraper that requires no coding knowledge and was initially open source, was purchased by Palantir and is now fee-based. Free programs also frequently involve compromises in terms of historical accuracy. For instance, most free mapping programs rely on contemporary maps, which can cause significant anachronisms when working with art historical information. Ellen Prokop sensitively addressed this issue by noting that maps are themselves products of their time and should be treated as such.
Still, continued efforts to develop new projects show progress in the field. This is especially apparent from the work being completed by The Frick on ARt Image Exploration Space (ARIES) and the Pharos consortium. Both of these projects foster image comparison. The Frick is working to find funding to make ARIES available to the public and a website for Pharos was published this past October.
Meredith Hale, Kress Fellow in Art Librarianship, 2016-2017, Robert B. Haas Family Arts Library, Yale University
---