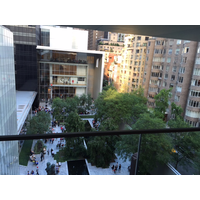 On August 13, 2015, New York chapter members of ARLIS/NA gathered on The Museum of Modern Art's (MoMA) library terrace in the Lewis B. and Dorothy Cullman Education and Research Building for drinks and nibbles. While the evening was a wonderful opportunity for friends and colleagues to have a drink, chat and reconnect, the New York chapter was fortunate to welcome a number of newcomers to the group. As the sun set and the summer night cooled, we appreciated the remarkably gorgeous views of midtown Manhattan and the Abby Aldrich Rockefeller Sculpture Garden where indie-pop band Lower Dens played below. We also enjoyed a marvelous close-up view of the elaborate gothic detailing of St. Thomas' Church, MoMA's next-door neighbor.
Janis Ekdahl, New York Chapter Chair and Bard Graduate Center Acquisitions Librarian, took a few minutes to announce some exciting upcoming events. We have scheduled a tour at the Whitney Museum's new space in the Renzo Piano building on the morning of Saturday, September 12, and a tour of Material ConneXion on Thursday, September 24. Tony White, Associate Chief Librarian at The Thomas J. Watson Library, announced the 2015 Contemporary Artists' Books Conference at PS1 on September 18 and 19 (The New York Chapter of ARLIS/ NA is a proud sponsor of this event!). See our events page for more information. The Board is also seeking venues for the annual meeting in October and the holiday party at the end of the year. If you know of suitable locations please let us know.
See our Facebook page for more photos from the event.
Chantal Sulkow
---