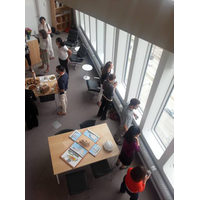 On September 12, 2015, intrepid ARLISans ventured forth to Gansevoort Street in the Meat Packing District of New York City, for an inaugural visit to the Whitney Museum of American Art, Frances Mulhall Achilles Library. Farris Wahbeh, Director of Research Resources, and Ivy Blackman, Library Manager, graciously hosted the visit.
The recently opened Renzo Piano designed museum building overlooks the Hudson River and the High Line. It integrates the water, park, and industrial structures that anchor the neighborhood. The building's large, sheltered public space and entry that brings in light recreate and revitalize the area. The design and execution of the museum are coincident with the Whitney's dedication to twentieth-century and contemporary art. The reinstallation of its collections shows it off to great advantage.
The library has two reading rooms, one largely for curatorial staff in the museum building and a shared space on West 26th Street. As of September, the library has been open for four months in its new locations. The staff is delighted to have more space than they have ever had with room to grow the collection, particularly artist files and reference. The library is non-circulating. Appointments can be made for individual use a week in advance.
Farris has undertaken writing a strategic plan for Research Resources. This area includes archives, reference, periodicals, documentation, records management, and special collections. These are the early days of the plan's evolution and transformation. Farris is creating a road map characterized by thinking in larger aggregate terms. The challenges are many: developing a digital strategy, initiating tech workflows, addressing infrastructure, ongoing integration, interoperability, and fostering collaborative projects. Owing to the uniqueness of the Whitney, there is a need to develop its own methods, including piloting a program to institute procedures. Consideration also must be given to the evolving nature of the scholarly record, access to content, progress in technology, standards and research, the expanding borders of creativity, and housing new forms of it. Farris's program is an ambitious one. As it unfolds, others may find value in learning how it is progressing. For many, similar questions are being asked. The value in visiting the new Whitney library was hearing about its path of reinvention and how its staff is taking up the challenge.
The sixth floor view from the library of the Hudson River is spectacular.
Esta Goldin, Archivist, Huntington Town Archives
---