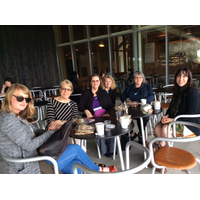 On Saturday, June 6, an adventurous group of New York chapter members gathered on the East End of Long Island for a richly rewarding day visiting three very distinct arts institutions.
The day began at the stunning Parrish Art Museum designed by Herzog and de Meuron Architects in 2012. The seemingly understated building, like the museum's permanent collection, is reflective of Long Island's landscape and heritage. Signature works by American artists such as William Merritt Chase, Fairfield Porter, Cindy Sherman and April Gornick form the core of the museum's permanent collection to which we were affectionately introduced by our docent Felicias Wetter. We navigated the temporary exhibition, Chuck Close: Photographs, by ourselves, admiring fifty years of Close's innovative photographic practice ranging from monumentally scaled Polaroids to intimately scaled daguerreotypes.
After a leisurely al fresco lunch on the patio of the Parrish Museum's Café, we drove a short distance to the Watermill Center--Robert Wilson's influential laboratory for the performing arts. This strikingly austere building, completed a decade ago, was designed to function as an incubator for "young artists to work, learn, create and grow with each other." Deb Verhoff and Clifford Allen, the Center's librarian and archivist, described the challenges and rewards they face in documenting the work of an internationally renowned living artist. An informal wine and cheese reception capped our visit and provided a welcome opportunity for additional conversation and networking. Julie Mellby has posted a fuller description of the Watermill Center with photos of Wilson's eclectic object collection on the Princeton Library's Graphic Arts Collection website.
The day ended at the intimate Dan Flavin Art Institute in Bridgehampton. Created by the artist in a former Baptist church in 1983, the installation traces 20 years of Flavin's work—beginning when he started working exclusively with fluorescent fixtures and tubes. The Institute is supported in perpetuity by the Dia Art Foundation and was an appropriate venue in which to conclude our art filled day and bid farewell to a wonderful cohort of ARLIS colleagues and friends.
Janis Ekdahl, Librarian, Bard Graduate Center
---