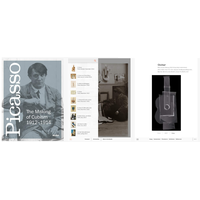 On Tuesday, September 23, 2014, members of ARLIS/NY attended a launch event for The Museum of Modern Art's (MoMA) first digital-only publication, Picasso: The Making of Cubism 1912-1914, held at MoMA Library. This event featured a demonstration of the e-book and discussion with the editor, Anne Umland, the Blanchette Hooker Rockefeller Curator of Painting and Sculpture at MoMA. The event was followed by a reception on the library terrace.

Picasso: The Making of Cubism 1912-1914 is the first monographic e-book to be allowed by the Estate of Pablo Picasso. At 350 pages, the publication serves as an in-depth study of 15 objects made by Picasso between 1912-1914, a period in which the artist engaged in cross-medium studio practice with cardboard, sheet metal, drawing, painting, photography, and assemblages. The e-book took three years to prepare, longer than originally anticipated. As the tenth volume in the series Studies in Modern Art, the publication includes 300 unique high-resolution images, videos, essays, documentation, and detailed conservation notes on materials used by Picasso during this period.

Picasso: The Making of Cubism 1912-1914 is available for purchase as an iPad application from the Apple store or as an interactive enhanced PDF via the MoMA store. There are not many differences between the iPad app and the enhanced PDF, although the zoom functionality only exists within the app. MoMA is not planning to update the app regularly, as it is considered a complete publication at this time.

At the launch event, librarians were encouraged to provide access to the e-book, in enhanced PDF form, to their respective patrons. The author noted that future negotiations with library e-book providers, such as OverDrive and 3M Cloud Library, will address the issue of having to flatten the enhanced PDF in order to provide distribution via their established platforms. Several concerns were brought up during the discussion, such as digital rights management (DRM) protections and long-term preservation and access to the e-book. Once the enhanced PDF is downloaded, it's a "whole" publication in perpetuity, however, MoMA will have to go back and renew the term of license for 287 of the images after a five year period. Additionally, preserving and providing for continued access to the iPad app poses another complex challenge to art libraries that seek to add this title to their collections.

Many of us grapple with the shifting perception of digital publications versus their print counterparts. What does a digital platform allow for that a printed book does not? Does it offer archival, visual or textural advantages? With the publication of Picasso: The Making of Cubism 1912-1914, MoMA has demonstrated a commitment to contributing a fresh perspective on Pablo Picasso, one that represents immersive and collaborative digital scholarship in an ever-advancing and evolving publishing landscape.

by Sumitra Duncan, NYARC Web Archiving Program Coordinator
---