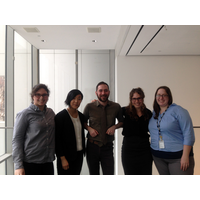 On March 30, 2015, the five current residents in the New York program of the National Digital Stewardship Residency (NDSR-NY) discussed their work at their respective host institutions for a program sponsored by ARLIS/NY and the Metropolitan New York Library Council (METRO). NDSR-NY is a nine-month paid residency that pairs new professionals in the information science field with New York area libraries, archives, and museums that have digital preservation needs. Residents receive extensive training in digital preservation, professional experience and the opportunity to present their work in professional settings like this one.
After opening remarks by program manager Annie Tummino, each resident presented the progress of his/her project. One common theme that emerged in each presentation was a long process in which the residents interviewed stakeholders (curators, librarians, and other people who are having to deal more and more with digital-born materials) and their host institutions to better understand how to address these needs. Then the residents did exhaustive research on best practices to come up with a series of recommendations that best fit their host institution. Each resident is at varying stages of implementing these recommendations, as well as producing extensive documentation that can be shared with other institutions.
In spite of this shared narrative, each resident's project presents unique possibilities and challenges. Vicky Steves discussed her work at the American Museum of Natural History, where lack of storage for digital-born research is one of the biggest concerns. Due to this lack of storage, data often leaves the museum with researchers. While safe storage is the first priority, a true digital repository that meets curator needs is the ideal next step. Shira Peltzman presented her work at Carnegie Hall, which needed better strategy for managing digital assets. Thus, one of the objectives for Shira is to configure and implement digital asset management systems (DAMS), designing optimal workflows and following best practices for digital preservation. Peggy Griesinger discussed The Museum of Modern Art's (MoMA) need for very precise and dynamic Process History Metadata (i.e., metadata about the tools used to digitize, migrate, or create time-base media). Peggy's residency has been particularly research heavy as she wanted to make sure to review every possible standard that could contribute to their needs, as well as understand what curators hope to get out of the repository. Karl-Rainer Blumenthal has worked on New York Art Resources Consortium's webarchiving project, which is attempting to save born-digital art information published by galleries, auction houses and others through use of software developed by the Internet Archive. Due to the complex nature of art-related websites, saving all relevant information can be challenging and often requires a great deal of human intervention. Blumenthal has worked to find solutions to challenging captures and create extensive documentation for staff actively archiving websites. Julia Kim concluded with a case study of an archival collection at New York University's (NYU) Fales Library consisting primarily of born-digital material. Kim discussed the challenging archival collection of Jeremy Black, best known for his time-based paintings. The bulk of this collection is born-digital and the digital files often reveal his artistic process, thus preserving access to these files is integral to future research. Since January, Kim has experimented with Emulation as a model for archival access and has scheduled appointments with researchers to access Black's Photoshop files in an environment which emulates how Black's working computer environment would have looked.
After these impressive presentations, one audience member asked how these institutions would be able to continue digital preservation efforts after the residencies end in May. The residents replied that their extensive research, documentation, and staff training would lay out great groundwork for better digital preservation practices at their host institutions. The residents were also asked about their recommendations for students interested in breaking into the field of digital preservation. Each resident had a different background (some more technical, others more in the humanities), but regardless of one's bachelor's degree they recommended "getting your hand dirty" and surrounding oneself with born-digital material, whether it's through a degree program or an internship.
They also highly recommended applying to become a resident. Though the deadline for an institution to be a host has passed, recent graduates in the information science field can apply to be a resident in New York before May 8, 2015: http://ndsr.nycdigital.org/about-ndsr/information-for-residents.
Walter Schlect, Edyth Griffinger Art Catalog Project Manager, Leo Baeck Institute, and MLIS/MS candidate at Pratt Institute in Library and Information Science, and History of Art and Design
---