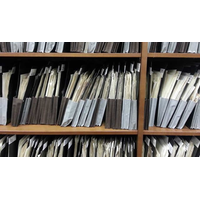 On January 13, 2015, ARLIS/NY was hosted by Billy Parrott and Jay Vissers of the NYPL Picture Collection. This incredible circulating and reference collection of over 1 million images is celebrating its centennial this year and is heavily used by artists, designers working in fashion, theater, and film, as well as cartoonists, historians and any person who needs a photo or illustration of any thing. Approximately 4,000 pictures are added monthly, clipped from books and magazines. Each picture is given a Library of Congress subject heading and filed in the corresponding folder. Cataloging the images is not a simple task because despite all that may be going on in a picture only one subject heading can be assigned. A new subject heading/folder is created once there are fifteen pictures that same subject heading. Every image is labeled with its Library of Congress Subject Heading, the source of the image (which helps patrons identify copyright status of the picture they are viewing), and an NYPL ownership stamp. Sixty items from the Picture Collection can be checked out at a time although many patrons choose to capture the images onsite using their own personal cameras.
The librarians working with the collection are important guides for researchers. People come in with an idea of what they want to see (pictures of morgues, take out containers from the 1970s, shopping bags, piano movers) and the Picture Collection staff guide them to the appropriate folders. Librarians keep a spreadsheet of what patrons ask for and have created bookmarks with subject headings for popular requests such as the Victorian Era, the 1950s and 1960s. In addition to the physical collection, more than 38,000 images have been digitized and are part of the NYPL Digital Gallery. An exhibition celebrating the Collection's centennial is in the works as well.
The Picture Collection is open Monday-Saturday, check the website for details.
Amy Ballmer, Associate Professor, Assistant Head of Research & Instructional Services, at the Fashion Institute of Technology, State University of New York
---