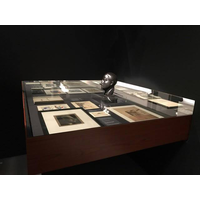 On March 15, 2017 ARLIS/NY members met at the Jewish Museum, located in Manhattan at 92nd street and 5th Avenue. The group was then led on a guided tour of the exhibition, The Pierre Chareau: Modern Architecture and Design, by guest curator, Esther da Costa Meyer.
da Costa Meyer shared a little bit about Chareau's background: that he grew up on the Left Bank of Bordeaux, France; that both he and his British-born wife, Dollie, were Sephardi; that Chareau never learned to speak English; and that he was never formally trained as an architect. Despite these apparent disadvantages, Chareau was a sought after interior designer, furniture maker, and architect.
In addition to being members of the French intelligentsia of the day, the Chareaus belonged to a "collectors" collective that bought and shared artwork. The group included influential artists and artisans, as well as clients of Chareau. In fact, it was Chareau's art connections that saved his life after the Nazis occupied Paris. With the help of his non-Jewish friends, he was able to store his art collection and leave Paris for New York citing his need to retrieve a loaned Amedeo Modigliani sculpture, Caryatid, now in the collection of the Museum of Modern Art.
For the exhibition, the Jewish Museum borrowed180 items from private collectors and museums from around the world. The exhibition featured a few gems formerly of Chareau's personal collection: Max Ernst's The Interior of Sight, 1922, the aforementioned, Caryatid, ca. 1914, by Modigliani, and a beautiful Chana Orloff piece titled, Maternity, 1914. Other rooms displayed photographs and original design sketches by Chareau of works that did not survive the Nazi occupation of France in the 1940s. The show also recreated the interior of a Chareau-designed apartment, complete with exquisitely embroidered, high-backed chauffeuses and a couch, never before sat upon. The exhibition's designers, Diller Scofidio + Renfro, also included virtual reality goggles through which museum-goers could view a digital rendering of the original room based off of photographs.
A highlight of Chareau's career is the Maison de Verre, 1928-1932, a glass house he designed for his friend and client, Dr. Jean Delsace. It is a tour de force of modern design and is listed as a historical monument in Paris. The house is made of translucent bricks, moving steel walls, exposed beams and cylindrical mobile cabinetry. With no load bearing walls, it is a true marvel of its time, and while the physical house was not part of the exhibition, Chareau's original designs were included in this stunning show for all to view.
Tammi Lawson, Associate Curator, Art & Artifacts Division, Schomburg Center for Research in Black Culture, NYPL
---