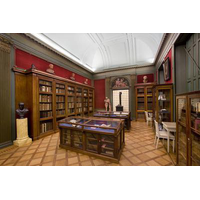 On October 14, 2016, members of ARLIS/NY and the Grolier Club gathered at The Metropolitan Museum of Art for a lively lecture on the past, present, and future of the Museum Meermanno/House of the Book, delivered by the museum's director and curator, Rickey Tax. Located in The Hague, the Museum Meermanno was a highlight of last summer's tour of the Netherlands organized by the ARLIS International Relations Committee, which is where Thomas J. Watson's Chief Librarian, Ken Soehner, met Tax and invited him to The Met to discuss this fascinating Dutch museum.
As Tax explained, whereas the Koninklijke Bibliotheek (National Library of the Netherlands) primarily collects books created in the Netherlands, Museum Meermano tries to capture the entire history of printing in the West, collecting important works created throughout Europe, America, and beyond. He relayed the history of the collection through its two most influential collectors, Johan Meerman (1751-1815) and, museum founder, Baron W.H.J. van Westreenen van Tiellandt (1783-1848), whose residence remains the site of the collection to this day. In addition to highlighting some of the pre-1848 holdings of Meermano, Tax also introduced the audience to its more modern holdings, which include items like its complete run of Kelmscott Press books and its collection of private contemporary Dutch presses. He briefly discussed some recent difficulties the museum has faced but ended on an inspiring note, nicely using one of the museum's objects (an eagle's stone) to symbolize the strength and fortitude requisite for Meermanno to see itself through its current troubles.
After the lecture, attendees gathered in Nolen Library for a reception, where members of ARLIS New York and the Grolier Club got to chat with Tax over wine, nuts, and finger sandwiches. He was as entertaining in casual conversation as he was compelling at the lectern, and it was wonderful that ARLIS was able to extend as warm a welcome to Tax as he and Meermano were to ARLIS last year.
William Blueher, Assistant Museum Librarian, Metadata & Collections, Thomas J. Watson Library
---