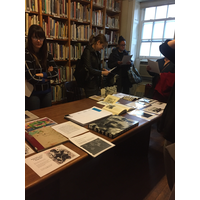 On Friday, March 31, 2017, ARLIS/NY members visited the New York Studio School of Drawing, Painting, and Sculpture in Greenwich Village. Located in a historic building that held Gertrude Vanderbilt Whitney's art studios beginning in 1914, it was also the birthplace of the Whitney Museum of American Art in 1931.
Alexandria Williams, Associate Director of Development and Historical Tours, recounted the history of the Whitney Studio and the New York Studio School (NYSS) as she walked members through the gallery spaces and studios, still in use by art students at NYSS but retaining many features of the original townhouses and carriage houses. (Only within the past year, after receiving a grant from the National Trust for Historic Preservation, has the landmark building opened for public tours.)
The upstairs space, which was originally Whitney's studio, has an ornate bas-relief ceiling and fireplace by Robert Winthrop Chanler, and once featured colorful stained-glass windows. Even in its current state of disrepair, the studio is dramatic. Eventually, Whitney repurposed the loft for entertaining and moved into humbler spaces to do her artwork, including the "Spirit of Flight" sculpture exhibited at the 1939 World's Fair.
By 1928, Whitney had accumulated more than 500 works of American art, including surrealism, modernism, and folk art. When she offered them to the Metropolitan Museum of Art, they were refused, so Whitney, along with her assistant Juliana Force, decided to start her own museum. There were 4000 visitors at the opening of the Whitney Museum in 1931; the museum would later move to larger quarters in 1954.
Mercedes Matter founded NYSS in 1963 as a rebellion against what she saw as the harmful movement of art education away from the studio. She preferred the earlier model of the atelier, with its intense focus on drawing, painting, and sculpting from life while studying past masters. After a few years, when the Whitney Studio became available, the NYSS moved into the gallery and studio spaces.
Chantal Lee, NYSS's solo librarian, gave members a tour of the library: a single room bursting with books, situated across a small hallway from the large painting studios. There are about 5000 books in the collection. Lee described a strong culture within the school from its beginnings that emphasized using books as part of artistic practice and of being inspired by artists from the past. Reference questions that Lee answers often involve helping an artist see more examples of a certain technique, subject, or approach, and conversations evolve depending on who else is in the library at the time. It was interesting to hear about Lee's approach to visually-focused questions, as opposed to more historical or theoretical questions. Lee said that reference is the biggest part of her job, using monographs and exhibition catalogs to help artists work through ideas and get inspired.
The library also hosts films and other programming, and it has been a meeting place for those kinds of activities for many years. Philip Guston, Alex Katz, Morton Feldman, and other prominent artists lectured at NYSS. The Evening Lecture Series archive is held in the library, and some excerpts are now on the NYSS YouTube channel.
It was great to see the historic Whitney Studio spaces still in use by artists, and also to visit a library designed specifically to inspire artists.
Lindsay King, Associate Director for Access and Research Services, Robert B. Haas Arts Library, Yale University
---