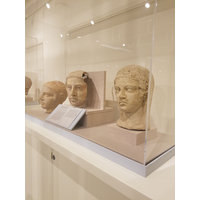 On Thursday, August 17, 2017, ARLIS/NA New York members made their way across the Harlem River to Fordham University's Rose Hill Campus and William D. Walsh Family Library. Housed in 4,000 square feet on the ground floor is the Fordham Museum of Greek, Etruscan and Roman Art. The Museum's curator, Dr. Jennifer Udell, greeted the group and discussed the collection's history, its installation in the Walsh Library, and its role as a teaching collection.
The collection is largely the work of William D. Walsh, the same Fordham-alum who, in 1997, endowed the Library that bears his name. From the 1970s to 2004, Walsh collected antiquities that suited his taste, leading to a diverse collection of 270 objects. In 2006, Walsh decided to donate his collection of pottery and sculpture to Fordham, so it could be accessed by the public and scholars. Dr. Udell joined the Museum that summer and has been with the collection since it arrived at the Library. In addition to the Walsh collection, Dr. Udell has also incorporated other Fordham collections (such as the coin collection of alumnus Thomas Marrone, given in 1949), acquired Syrian mosaics, and accepted long-term loans for the museum.
Dr. Udell discussed the challenges of transforming a library space into a museum, as the collection is on permanent display in what was formerly the Periodicals Room. In keeping with the rest of the Library, the space was originally accented with dark, hardwood, a design element that extended to the glass display cases selected by the library staff before Udell's arrival. The ubiquity of the wood darkened the space, despite the many windows that overlook the Fordham campus' greenery. Furthermore, the installation of objects of various sizes, from a large pair of barnacled amphorae to the aforementioned Marrone coin collection, was complicated by the uniform cases with little modularity. In recent years, there have been aesthetic improvements to the space: the walls are now painted a Benjamin Moore Blueberry – evoking Santorini when set along the stone sculptures. Gone are the periodicals, reference desk, and study carrels, and in their stead is a white-walled exhibition nave with museum-standard display cases and seminar table.
The Museum's collection makes for an excellent teaching tool, as it covers twelve centuries, beginning in 10th century B.C., and it includes examples of items not to be seen in any other public New York collection. At the time of the tour, a senior project involving votive sculpture was on display in the exhibition space.
Dr. Udell's knowledge of the collection and candid discussion engaged the group for the full hour, until closing time for the public. The Museum is open to those unaffiliated with Fordham Monday through Friday from 9:00am to 5:00pm.

Tal Nadan, Reference Archivist, The New York Public Library
---