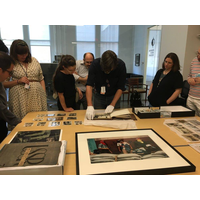 Back on July 29, 2016, ARLIS/NA New York members were treated to a tour of Mana Contemporary. Located in Jersey City, the expansive former tobacco warehouse is home to exhibition spaces, studios for visual and performance artists, arts organizations and on-site services, including the Keating Foundry.
The event opened with a docent-led tour of current exhibitions showcasing private collections, public programming and resident artists. The T'ang Horse: Anthony Quinn, was on view in the first floor gallery, and presented paintings, sculpture and drawings by actor Anthony Quinn juxtaposed with artworks and artifacts from his vast personal collections amassed over a lifetime of international travel. Wake the Town and Tell the People, a group exhibition co-presented by the International Sculpture Center, occupied the fifth floor gallery. The Carole A. Feuerman Sculpture Foundation, populated with hyperrealist sculptures, was among the many artist studios visited. The building's fourth floor also featured Armitage Gone! Dance, the contemporary ballet company of choreographer Karole Armitage, whose glassed-in studio offers visitors an intimate view of the dancers as they rehearse.
Archivist Marie Penny guided the party through the remarkable Richard Meier Model Museum. Visitors enter the Museum through a gallery of rotating exhibitions featuring Meier's sculptures, drawings and encaustic collages, a window into lesser known aspects of Meier's practice. Beyond the gallery over 400 hand-made basswood and birch scale models of Meier's architectural and furniture designs occupy an airy exhibit space, as well as glassed-in stacks that allow visitors a 360-degree view of their intricacies. The Getty Center and the Smith House are among the iconic designs rendered in three-dimensional studies and framed drawings on permanent view. The adjacent library features design publications collected by Meier over the course of his career.
Guests were also given a tour of Weegee's Bowery, presented by the International Center of Photography at Mana (ICP). Although no longer on view, the exhibit highlighted the press photography of Arthur Fellig - known as Weegee - with prints featuring the dingy environs of the Bowery during the 1940s and 1950s, and the flamboyant characters that inhabited them. Weegee centered his practice around police headquarters, even installing a police radio in his car, in order to capture the lurid and sensational images for which he was known. ICP specialist Christopher George was on hand to answer questions regarding the exhibit.
The afternoon concluded with a tour of the ICP archives and media lab led by ICP Director of Library, Archives, and Museum Collections, Deirdre Donohue. Guests were treated to a curated selection of highlights from the archives, followed by a lively reception of Indian sweets and prosecco in the ICP lab space.
Amye McCarthur
---