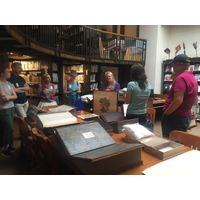 On July 9, 2016, ARLIS/NA New York members gathered at the Brooklyn Botanic Garden for a tour of the Garden's library. Librarian Kathy Crosby greeted members in the reading room, where only a small portion of the library's approximately 80,000 volume collection is housed.
Once the group had assembled, Crosby detailed some of the Garden and library's history. Charles Stuart Gager, the original director of the Brooklyn Botanic Garden, was also a bibliophile and understood the importance of a well-rounded library to the study of botany. As such, Gager made a conscious effort to create and continually grow the Garden's collection, founded in 1910, mainly through private donations. Gager was so devoted to the library that when his son and heir died in 1918, Gager bequeathed a significant amount of money to the library.
Members were then shown some highlights from the library's rare book collection, including a medical text from 1542 by Leonhart Fuchs, Christoph Jacob Trew's Plantae selectae quarum imagines ad exemplaria naturalia Londini, in hortis curiosorum nutrita from 1773, and the Banks' Florilegium, beautiful color engravings based on sketches created during Captain Cook's travels between 1758 and 1761. The Banks Florilegium is particularly interesting as the engraved plates sat in the British Museum until the 1980s and 1990s, when they were rediscovered and subsequently published by Electo Publishers in stunning color.
The library circulates non-rare books to members and to those taking classes in the Botanical Garden, but the library is open to everyone Tuesday through Friday, from 10am to 4:30pm, and on Wednesdays until 8pm.
Pictures from our trip are available on ARLIS/NA New York's Facebook page.
Paula Gabbard, Fine Arts Librarian, Avery Library, Columbia University
and
Arielle Cohen, Librarian, Gagosian Gallery
---