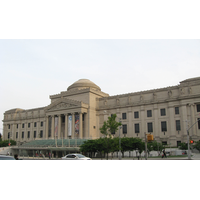 On Thursday, November 3rd, 2016, a group of about eight members of ARLIS/NA New York toured the Library and Archives of the Brooklyn Museum. We were greeted by Principal Librarian, Deirdre Lawrence, in the lobby of the Museum, where fish-shaped helium balloons floated lazily through the concourse.
Up to the second floor (where stray fish balloons had also drifted), we walked past areas of renovation into the library. Due to construction, access to the library and archives is currently by appointment only, but that doesn't mean collections are closed off; in fact, the Library & Archives continue to pursue cutting-edge collaborations with other institutions. They have partnered with the Google Cultural Institute for a number of projects, and are also part of the New York Art Resources Consortium (NYARC). Other members of NYARC are the libraries of the Frick Collection and the Museum of Modern Art.
As part of the tour, we were treated to a few of the many treasures within the library and archival units of the museum. These included rare books on Egyptology, 19th-century illustrations of Japanese games, a "Women at War" collection from World War II, artists' books, and correspondence. We also saw what was arguably the creepiest item in the archives: a letter from the 1800s that included an actual bird's wing, stuffed into an envelope.
A highlight of the tour was getting to meet artist Anton Würth, who was invited to speak to us and introduce his work. He engaged the group in a lively chat about artists' books.
There are ten staff and about ten interns and volunteers working within the library and archives. Collections are encyclopedic in scope and are comprised of many different types of media. Beyond books, serials, and auction catalogs, the Brooklyn Museum also has around 200,000 audiovisual materials and 3,000 linear feet of archives. These are held in the General Library, the Wilbour Library of Egyptology, and the Museum Archives. Another unit, Special Collections, encompasses all three divisions of the Museum's libraries and archives.
Molly Schoen, Visual Resources Curator, Fashion Institute of Technology
---