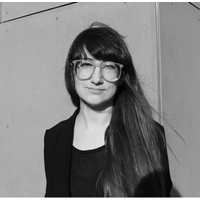 Name: Amye McCarther
Title: Archivist
Organization: New Museum
Information Science School: University of Texas at Austin
Year Graduated: 2015
Years as an ARLIS/NA New York Member: 3
What made you decide to pursue the field of information science?
My path to information science was pretty circuitous. After finishing my undergraduate degree in Studio Art and Creative Writing, I developed an interest in underground music production in Texas from the 1960s, and its overlap with the visual arts scene in Houston. Through my research, I became friends with Frank Davis, the sound engineer and producer who first recorded Mayo Thompson and Frederick Barthleme's early collaborations as the Red Krayola, the 13th Floor Elevators, and local folk and blues luminaries, such as Lightnin' Hopkins, K.T. Oslin, and Powell St. John. I was fortunate to receive an Idea Fund grant in 2011 to help Davis preserve the master reels from Andrus Studios, which had been entrusted to him by producer Walt Andrus, but I soon realized that the work I was doing would benefit from a more formal archives training. At the time, I was also participating in the Joan Mitchell Foundation's CALL Project, which entailed organizing artists' artworks and records. All of these activities felt very organic to me then but, looking back, my interests were clearly pulling in that direction.
How did you become involved in ARLIS/NA New York?
My introduction to ARLIS was primarily through Lindsey Reynolds, who is now the Art Librarian at the Lamar Dodd School of Art at the University of Georgia. I had moved to New York for an internship at the Whitney Museum, where she was Assistant Librarian. Lindsey introduced me to the Contemporary Artist's Book Conference and ARLIS/NA New York. After I graduated, I applied to participate in the ARLIS/NA New York mentorship program, and was paired with Amy Ballmer, who is now the Chair of Library Teaching and Collections Development at Pratt Institute. Amy was an amazing support while I was getting my feet as an emerging professional, as were several other ARLIS colleagues.
What other professional activities are you involved in?
I'm the co-coordinator of the ARLIS/NA Solo Professionals Interest Group. I'm looking forward to welcoming my ARLIS/NA colleagues from afar in February 2018, when New York plays host to the Annual Conference. My fellow co-coordinator, Lucy Campbell, and I have organized a really diverse panel of solo librarians to share their strategies for optimizing their resources, and will be hosting a happy hour event to continue growing that network. I recently took on the role of Director of Programming for the Archivists Roundtable of Metropolitan New York. Our first event of the season was co-presented by ARLIS/NA New York at MoMA PS1, and I'm hoping that there will be more opportunities to co-host in the future. I'm also co-chair of the Scholarship Committee for the American Institute of Conservation's Electronic Media Group, which was formed earlier this year to examine how we can provide opportunities for emerging professionals, particularly those who aren't located in large cultural hubs.
Describe an interesting work project with which you are currently involved. Either at work or in your free time.
For the past year I have been working with design firm Linked by Air and Collective Access developers Whirl-i-Gig to redesign the New Museum's Digital Archive, which is set to launch this fall with our 40th anniversary programs. The project has entailed overhauling our taxonomy and cataloging functions, vetting hundreds of exhibition and public program records for accuracy, and consulting on UI/UX to best serve casual and scholarly users alike. A major component of the project has also been developing our Oral History Initiative, which will debut concurrently, and which features a custom module for creating intertextual links between the subjects' narratives and our archival materials. We've also developed a custom interface for our institutional chronology, record pages that are more visual and responsive, and more intuitive browsing functions. And, perhaps most exciting, this fall we will also be exploring how to integrate Rhizome's Webrecorder tool with our preservation workflows and new Digital Archive interface.
What past experiences have informed your current work?
Long afternoons spent at the Menil Collection and Contemporary Arts Museum in Houston. Most people don't realize that both of these museums, and the Menil's satellite galleries of Cy Twombly, Dan Flavin, and Mark Rothko, are free to visit. It was such a luxury to take that access for granted, and to be intellectually and aesthetically nourished by that beauty. I think a lot of my motivation around creating access to art historical materials stems from the sense of gratitude I still have for the pleasure of being able to wander aimlessly through those collections and exhibitions. I hope there is an echo of that experience in the digital environments we're creating for visitors to wander through.
---