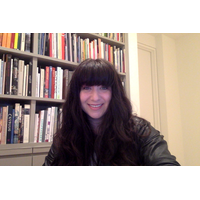 Name: Arielle Cohen
Title: Librarian
Institution: Gagosian Gallery
Information Science School: Pratt Institute
Year Graduated: 2014
Years as an ARLIS/NA New York Member: Less than a year. I was late to the game, but I am so glad to be a part of this great community.
What made you decide to pursue the field of information science?
After completing my undergraduate degree, I took some time off, like so many people do, and I began to think about the role of the traditional book in the twenty-first century, particularly how changes in book culture might affect people's access to information, and how that in turn might affect user experience. Hoping to gain further insight into these areas, I eventually came to the conclusion that pursuing a degree in information science would allow me the opportunity to not only learn more about such topics, but to also contribute to the discussion.
What is one of you most enjoyable work-related activities?
While I really do enjoy all aspects of my job, it is my role as reference librarian that I find particularly gratifying. From tracking down materials to performing in-depth research for staff members, I truly appreciate the opportunity to be the bridge that connects users with the information they seek.
Can you tell the ARLIS/NA New York community something about you that it may not know?
Hmm, probably that my formal academic background is not actually in art or art history. I hold a dual BA in English literature and history, and I have always been an art enthusiast, but it was not until I was pursuing my MLIS that I really began to engage with art in a more formal setting. Some might see this as a limitation, but I have found that my alternative background actually complements the work I do as an art information professional, allowing me to add an additional layer of interpretation to any research I do.
Do you have any advice for current students and recent graduates interested in pursuing a career in art information?
As art librarians, and as information professionals more generally, we are part of an incredibly active professional community, and I would encourage anyone and everyone to take full advantage of that fact. Sign up for all the newsletters and listservs you can to learn about seminars, networking events, and hot topics in the profession, and do not let the fact that you are new to the community affect your involvement in it. Aside from being a member of ARLIS/NA New York, I am also the feature post coordinator for ArLiSNAP, the ARLIS/NA group for students and new professionals, and while I might be biased, I think this is great way for newcomers to get involved in the art information community.
What made you decide to join ARLIS/NA New York?
Being in New York, we are not only surrounded by the amazing museums and galleries that make this city one of the great art centers of the world, but also the incredible information professionals that support these institutions. ARLIS/NA New York brings together these talented individuals who, already, have been so welcoming to this new member of the art information community, and I look forward to getting to know everyone.
---