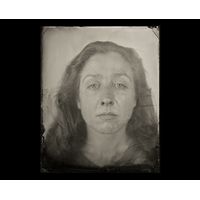 Name: Deirdre Donohue
Title: Stephanie Shuman Librarian
Institution: International Center of Photography
Number of years you have been an ARLIS/NY member: On and off since 1995, mostly on since 2000.

What is your favorite aspect about being a librarian?
I love to see and learn new things every day, and facilitate others to, as well. I also love connecting people, and the library is a great forum, in that way...live human interaction...great to connect curators with teachers with students with critics, etc.. Best of all is to watch a spark of inspiration experienced in the library grow and connect to a channel of distribution and then become a new acquisition to inspire the next seeker.

Describe a memorable ARLIS/NY event and how it impacted you.
Oh wow, there are so many! The tour of the [new - outstanding] Barnes last summer on the day of a Philadelphia monsoon was really fantastic because Judy Donovan was so welcoming and informative and I think Barnes was SO avant-garde [enriched my perspective on the dance among museums, education and how research entities document it], a holiday party one year tucked away in a Weimar-feeling upper floor of the National Arts Club [really I learned art librarians are the most fun by being both smart and wild, necessarily, as one must be to make so much of so little], and a recent evening where Carole Ann Fabian answered 10 million questions about the collaborative acquisition of the Frank Lloyd Wright Archives by Columbia and MoMA AFTER leading a tremendous tour of the show at MoMA...I could go on. I love ARLIS/NA and ARLIS/NY for teaching me so much over the years.

What are you currently reading?
I'm finishing 24/7 by Jonathan Crary, starting No Medium by Craig Dworkin [I overlap because I cannot bear the sense of loss I have when a good book ends] and via audio am leaving The American by Henry James [always James in the Summer, when I cannot afford to travel] and entering Dickens' Barnaby Rudge [because a recent Mike Walker dramatization on the BBC reminded how relevant and modern it is]. I also picked up the catalog for the terrific Waterweavers show at Bard Graduate Center, and am eager to plunge in because the show was really really thought provoking.

Share something new that you have learned recently.
Last week Todd Carter, CEO of Tagasauris, mentioned that, in plotting words from Congress proceedings in terms of frequency of use, "metadata" [thank you for that Edward Snowdon] was tops, and "megadata" [the Congress misspeakings are now codified...hello Reverend William Archibald Spooner!] was also up there.

Image: Portrait of me is an 8 X 10 tintype by the artist Keliy Anderson-Staley taken in July of 2008.
---