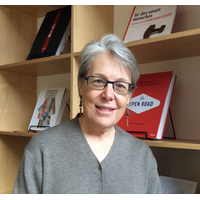 Name: Janis Ekdahl
Title: Part-time Acquisitions Librarian
Institution: Bard Graduate Center: Decorative Arts, Design History, Material Culture
ARLIS/NY Executive Board Position: 2015 Chair

How long have you been involved and in what capacity with ARLIS/NA and ARLIS/NY?
ARLIS/NA has been my professional home since 1973 when I attended the society's very first conference held in a classroom at Columbia University. As a fledging art librarian at Vassar College, I was delighted to finally meet colleagues who understood my unique problems and concerns, and also shared my passion for the visual arts. This sense of "belonging" explains and undergirds my long involvement with ARLIS/NA. I have served on the ARLIS/NA Executive Board twice—once as President in 1994 and a decade earlier as the East Coast Regional Representative. I've participated in several groups and roundtables, and been fortunate to have attended every annual conference, except one. In 2004, I was the Exhibits Coordinator for the Annual Conference when it was last held in New York City. I became more active in the New York chapter after taking a position at The Museum of Modern Art Library in 1981, serving as chapter chair in 1993. I was amused to notice recently that my decades-old signature is still affixed to the chapter's official New York State Tax Exempt Certification!
What makes ARLIS/NY so special to you?
Quite simply, it is the people. ARLIS colleagues are among the best, brightest, and most creative individuals in our profession and the New York Chapter is fortunate that our community shares its time, talents, and resources so generously.
As the Chair, what are your goals for the chapter in 2015?
During 2015, the Executive Board and I are striving to offer a diverse schedule of programs and events that will foster professional development, increase awareness of local resources and promote meaningful networking. We also will soon be launching a chapter-based mentoring program to address the needs of our members on a more individual basis.

Can you give us a hint as to some of the exciting upcoming tours, events, and programs?
We are collaborating with METRO to host a symposium at which New York's National Digital Stewardship Residents will discuss the cutting-edge projects they have been involved with during 2014-15. Stephen Van Dyk has invited the chapter to visit the restored, expanded and radically reconsidered Copper Hewitt, Smithsonian Design Museum. The visit will include a behind-the-scenes tour of the Museum's Library. And, back by popular demand, will be a forum at which chapter members who have given papers at this year's ARLIS/NA annual conference will be invited to re-present their papers to New York area colleagues who missed them in Fort Worth. Other events in the works are a Sunday afternoon tour of Lower East Side art galleries, and a day-long excursion to Robert Wilson's Watermill Center and Herzog & de Meuron's Parish Art Museum on Long Island. Additional programming ideas are always welcome; I hope members will not be shy about sending their ideas and suggestions to me or another board member.
Why did you decide to run for Chair of the New York Chapter again?
I had begun to feel a bit out-of-touch with the next generation of professionals, so I was happy to respond positively when approached by the chapter's nominating committee. That turns out to have been a good decision since I now find myself working closely with a group of talented colleagues who are committed to fostering meaningful engagement with the challenges our profession faces in the twenty-first century.
---