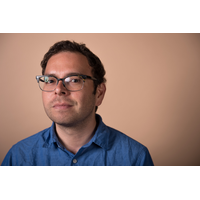 Name: Ralph Baylor

Title: Associate Librarian for Public Services

Organization: The Frick Art Reference Library

Information Science School: Pratt Institute

Year Graduated: 2014

Years as an ARLIS/NA New York Member: 3

What made you decide to pursue the field of information science?
I thought about librarianship as a viable career path as the result of an opportunity to impact a community I care about, and I also did not desire to eek out a living as bad artist. I had just graduated with my BFA from the University of New Mexico when some friends acquired funding and permission to create an LGBTQ resource center on campus under the Division of Equity and Inclusion. It was the first college resource center of its kind in New Mexico, and we fought hard to get it. We envisioned a library but failed to envision the cost of acquiring and maintaining a collection. My job was to manifest, at no cost, the LGBTQ Resource collection. We were able to get about 400 books and have the University Library create records for access on the Library OPAC. After that, I wanted to be a librarian. On my last visit to Albuquerque, I was proud to see that the collection has grown by three-fold.
How did you become involved in ARLIS/NA New York?
I first heard about ARLIS/NA and the local New York chapter at a METRO meet and greet for new students in the field. Shortly thereafter I interviewed Suz Massen, of the Frick Art Reference Library, for a project in one of the foundational courses at Pratt's School of Information. She encouraged me to join.
Describe an interesting work project with which you are currently involved. Either at work or in your free time.
Besides my Reference Desk duties, I am part of the Digital Art History Lab (DAHL) at the Frick Art Reference Library. The DAHL promotes the use of digital humanities tools and methods for art historical research. We put on 2-3 free workshops every academic semester that teach how to use a specific set of software for research. Take a look at http://www.frick.org/research/DAHL and follow us on Twitter (@Frick_DAHL) to learn about upcoming events. I also moonlight as a bibliographer, currently assisting the Centre for the History of the Media at University College Dublin with the Iberian Books Project, working on the collection of the Hispanic Society of America. The IB project is producing a foundational listing of all books published in Spain, Portugal and the New World or printed elsewhere in Spanish or Portuguese during the Golden Age, 1472-1700.

Do you have any advice for recent MLIS graduates who are in the job market?
Find friends and mentors doing the type of library work you are interested in pursuing. Yes, that means going to professional events, networking even. You will be meeting your future colleagues; the people you will be working with for a long time. It is good to let them know who you are.

What podcasts are you currently listening to.
There are too many to list in entirety, please accept this small batch which I highly recommend.
Malcom Gladwell's Revisionist History
Game of Thrones Podcast (only when a season is airing)
Rupaul: Whats the Tee? with Michelle Visage
---