SAVE THE DATE: After the Storm: Holiday Party & Benefit for Puerto Rican Cultural Heritage Collections, Tuesday, December 11, 2018
Save the Date!
Archivists Round Table Holiday Party & Benefit
Tuesday, December 11, 2018
7-9 PM
2 East Broadway, 2nd Floor
The Archivists Round Table (ART) invites you to a holiday celebration and benefit on Tuesday, December 11th in a beautiful gallery in Lower Manhattan. This year, we are delighted to invite our colleagues from the New York chapter of the Art Libraries Society of North America (ARLIS/NY) to join us and to announce that the proceeds from the event will be donated to Puerto Rican cultural heritage collections impacted by Hurricane Maria.
For the past several months, ART has been collaborating with ARLIS/NY in organizing a project to support existing recovery efforts on the ground in Puerto Rico, and to aid local organizations in preparing for future disasters. This effort, undertaken in partnership with Puerto Rican archivists consortium La Red de Archivos de Puerto Rico (ArchiRED), will include the creation of Spanish-language programming and instructional materials on preservation, disaster response and recovery, and grant writing that will be freely accessible to all organizations across the island. To further this endeavor ART is hosting an online fundraising campaign and donating the proceeds from the campaign and the holiday party to ArchiRED.
The evening will include a talk on the historical context and state of recovery of Puerto Rican archives and libraries delivered by media archivist and conservator Caroline Gil, currently the Fellow in Media Conservation at MoMA, and digital archivist and librarian Coral Salomón, Digital Strategies Librarian at University of Pennsylvania's Fisher Fine Arts Library. The talk will be accompanied by an exhibition of photographs and videos that capture landscapes of Puerto Rico following Hurricane Maria by Puerto Rican artist Cristobal Guerra, who is currently based in Brooklyn.
For registration, please visit our event page on CrowdRise:

https://www.crowdrise.com/o/en/campaign/after-the-storm-a-fundraiser-for-puerto-rican-cultural-heritage-collections
Come enjoy festive refreshments in a beautiful space with colleagues from ART and ARLIS/NY in support of cultural heritage in Puerto Rico. We hope to see you there!
Best regards,
Archivists Round Table of Metropolitan New York
Please note: this event is being held in an ADA accessible space.
The Archivists Round Table of Metropolitan New York, Inc. (ART) is a not-for-profit organization representing a diverse group of more than 400 archivists, librarians and records managers in New York metropolitan area. Your gift is very much appreciated and tax deductible as a charitable contribution to the fullest extent allowed by law. A copy of ART's latest financial report may be obtained by writing to ART, P.O. Box 151, New York, NY 10274-0151. New York residents may obtain a copy of ART's annual report by writing to the Office of the Attorney General, Department of Law, Charities Bureau, 28 Liberty Street, 15th Floor, New York, NY 10005.

Photo: Cristobal Guerra, from the series Rio Blanco/Playa Sucia, 2017. Courtesy the artist. © Cristobal Guerra. Design by Barbara Calderón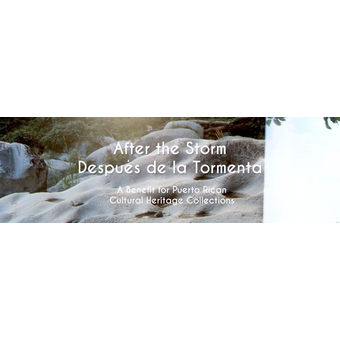 2 E Broadway 2nd Floor, New York, NY 10038, USA