Tour of Blue Prints: The Pioneering Photographs of Anna Atkins
Please join ARLIS/NA New York for a special tour of
Blue Prints: The Pioneering Photographs of Anna Atkins on Tuesday, February 12 at 4:30 pm at the Stephen A. Schwarzman Building of The New York Public Library.

The tour will be led by Emily Walz, curatorial assistant for the exhibition and Librarian in the Wallach Division of Art, Prints and Photographs, and will last approximately an hour. We will meet in Astor Hall and enter the exhibition as a group. After the tour, there will be time to explore the exhibition and the rest of the library on your own until the library closes.
About the exhibition:
Anna Atkins (1799–1871) came of age in Victorian England, a fertile environment for learning and discovery. Guided by her father, a prominent scientist, Atkins was inspired to take up photography, and in 1843 began making cyanotypes—a photographic process invented just the year before—in an effort to visualize and distribute information about her collection of seaweeds. With great daring, creativity, and technical skill, she produced
Photographs of British Algae: Cyanotype Impressions
, the first book to be illustrated with photographs, and the first substantial application of photography to science. Ethereal, deeply hued, and astonishingly detailed, the resulting images led her and her friend Anne Dixon to expand their visual inquiry to flowering plants, feathers, and other subjects. This exhibition draws upon more than a decade of careful research and sets Atkins and her much-admired work in context, shedding new light on her productions and showcasing the distinctive beauty of the cyanotype process, which is still used by artists today.
More information about the exhibition can be found here:
https://www.nypl.org/events/exhibitions/blue-prints-pioneering-photographs-anna-atkins
Please register by Monday, February 11th.
Tour is limited to 10 participants.
Image: Anna Atkins, "Dictyota dichotoma, in the young state; and in fruit" from Part XI of Photographs of British Algae: Cyanotype Impressions, ca. 1849, cyanotype.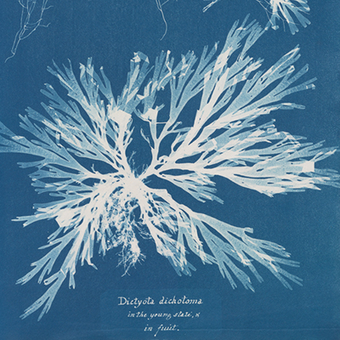 New York Public Library, Stephen A. Schwarzman Building, 476 5th Ave, New York, NY 10018