Tour of Hi-Viz: Australian Political Posters 1979–2019 and Interference Archive
Please join ARLIS/NY on Saturday, April 13th at 11:00am for a tour of Interference Archive and their latest exhibition Hi-Viz: Australian Political Posters 1979–2019.

From the collection of Alison Alder, Hi-Viz: Australian Political Posters 1979–2019 is an exhibition of screen-printed posters that provide a visual commentary of politics and life in Australia over the last four decades. Renowned for their high visibility, particularly in the 1980s with their saturated fluorescent colors, these posters describe the times and events that have engaged socially active artists throughout recent periods of major change.

These wonderful posters, with their ability to encapsulate ideas into a single image, continue to provoke debate, galvanize ideas into action, and invigorate those working toward an equitable and just society.
Founded in 2011, Interference Archive aims to to explore the relationship between cultural production and social movements. This work manifests in an open stacks archival collection, publications, a study center, and public programs including exhibitions, workshops, talks, and screenings, all of which encourage critical and creative engagement with the rich history of social movements.
The tour is limited to 30 participants, and will last about an hour. Afterwards, members are encouraged to explore the archive during its regular operating hours (12pm to 5pm).
Image description: Poster image for the exhibition courtesy of Interference Archive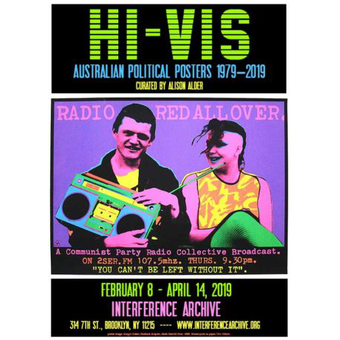 314 7th St, Brooklyn, NY 11215, USA