Tour of Saturated: the Allure and Science of Color at Cooper Hewitt
Please join ARLIS/NA New York on Wednesday March 13th at 4:00pm for a special tour of the exhibition Saturated: the Allure of Science and Color at the Cooper Hewitt Smithsonian Design Museum.
The tour will be led by Jennifer Cohlman Bracchi, Cooper Hewitt Librarian and curator of Saturated along with co-curator Susan Brown.
The exhibition features over 190 objects spanning antiquity to the present from the extraordinary collections of Smithsonian Libraries and Cooper Hewitt. More than three dozen magnificent and rare books from the Smithsonian Libraries are installed throughout the exhibition, emphasizing the ongoing theoretical and practical discourse on color. Illustrated with spheres, cones, grids, wheels, and other graphic means for organizing color's hues and harmonies, the works include texts written by designers, naturalists, and chemists, as well as some of the most important color treatises of the Enlightenment, such as Sir Isaac Newton's 1704 Opticks and Johann Wolfgang von Goethe's 1810 Theory of Colors. Also on view, a very rare surviving volume of Jacob Christophe Le Blon's 1725 Coloritto, the first book to document the mixing of primary colors to create secondary colors that became the foundation of modern color printing. (https://www.cooperhewitt.org/channel/saturated/)
Please register by Wednesday March 6, 2019.
Tour is limited to 25 participants and will last about one hour. The Cooper Hewitt Museum is open until 6:00pm on Wednesday March 13, 2019 and is located at 2 East 91st Street (between 5th and Madison Avenues) New York, New York 10128.
Featured Image: Book, an Exposition of English Insects, 1776. By Moses Harris. Smithsonian Libraries, QL482 .G7H315 1776.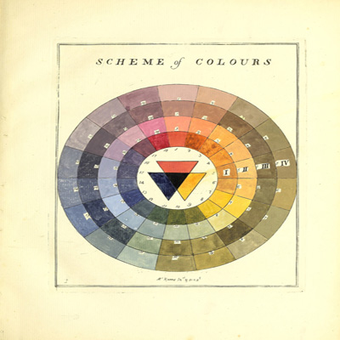 2 E 91st St, New York, NY 10128, USA